Online Sales Pro vs. ClickFunnels vs. SamCart
"How to grow your online business in just one week!"
"How to start an online business for free!"
We've heard these promises from online gurus time and time again.
But there's a difference between watching a masterclass–where the instructor already knows the ins and outs of everything they're teaching you–and trying to jump off the deep end and navigate everything yourself.
In fact, according to Hubspot, the top three most difficult things to do in sales include getting responses from prospects, engaging multiple decision makers, and closing deals.
These are things that you can't just learn in a class and suddenly master them.
Maybe you're someone in this situation, where you just got out of a masterclass where you learned how to launch your online business and you're suddenly stuck at a particular part of your process…
OR
Perhaps you're someone who is a bit more advanced in this whole online business thing and you're now looking to scale your business and bring it to that next level.
Whichever boat you're in–or if you fit somewhere in the middle– a sales funnel that works for you is probably the next step in your "journey to financial freedom," or whatever the online guru of your choice likes to call it.
---
An Overview of Online Sales Pro, ClickFunnels, and SamCart
In this article, I'll be giving an overview of three popular online sales funnel tools and then I'll be comparing them and going over their pros and cons. After reading this, you should know exactly where to go next and how to get started with creating a sales funnel today:
---
Online Sale Pro.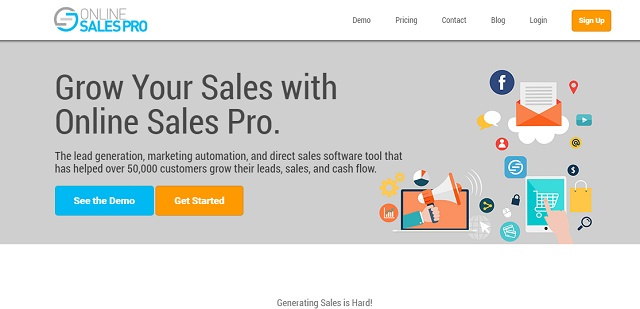 Online Sales Pro offers a simple and easy-to-use tool to capture your leads, monitor them, and automate email marketing to them. With Online Sales Pro, you can create a sales funnel and have it up and running in just five minutes.
Online Sales Pro focuses on three pillars with its users:
Foundation
Traffic
Engagement
Your foundation is made up of the lead magnets you are setting up through the tool, which include landing pages and sales pages to attract traffic to your site, offer, etc. Online Sales Pro offers a training video on how to set up your funnel, and as you'll see in some examples in the next section, it's really as simple as it gets.
Traffic and engagement are the two goals of your funnel, and Online Sales Pro offers hundreds of training videos on how to drive traffic to your funnel, and then how to engage with the leads and convert them into customers.
Easy-to-use and quick functionality, along with the hundreds of hours of training available for users, make Online Sales Pro the perfect tool for beginners and people who want to just get their sales funnel out there quickly and efficiently.
The Pros and Cons.
| | |
| --- | --- |
| Pros: | Cons: |
| Ease of Use | Not very customizable |
| Set Up Funnel in Under 3 Minutes | Doesn't have as many extra features as competitors |
| Offers a Mobile App | |
| Provides hundreds of hours of training | |
| Keeps lead history on dashboard in real-time for up-to-date analytics | |
| Allows for automation and integration | |
| Has an Affiliate program | |
| Very affordable | |
If this sounds like you, check out Online Sales Pro and sign up here!
---
Clickfunnels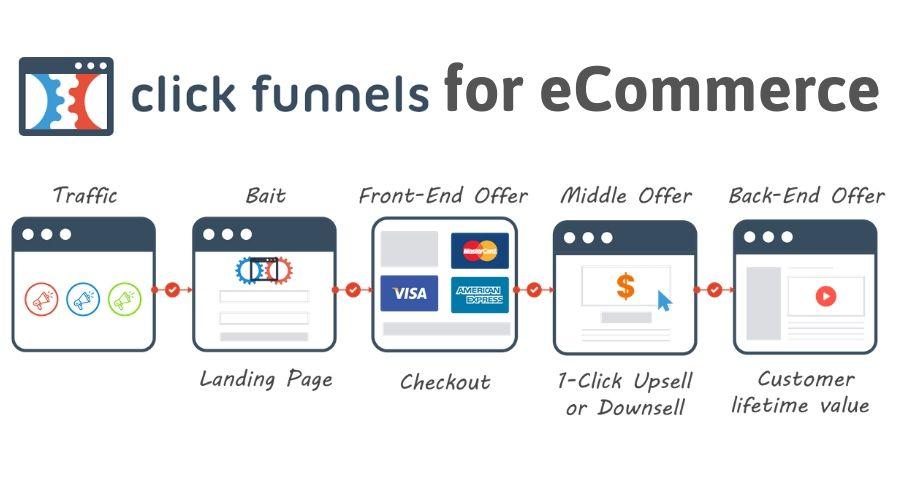 ClickFunnels is similar to OSP in its goals and offerings, but it caters more toward a more advanced entrepreneur.
Like OSP, ClickFunnels is all about automating the sales process so that the hard work is done for you. It offers sales funnels design templates that will help you build optimized landing pages as well as sales pages to sell services or products online.
On top of these design templates, CF also allows you to customize these templates by choosing fonts, colors, the pictures on the page, etc.
It also allows you to customize your entire funnel based on your goals– so you can create an optimal funnel for your online course, and a totally different type of funnel for your webinar. With these features in mind and the customizability of ClickFunnels, it's best suited for a business owner with experience who doesn't need training or any guidance in the sales funnel process.
The Pros and Cons.
| | |
| --- | --- |
| Pros: | Cons: |
| Very customizable at all levels | Expensive |
| Allows for automation and integration | Not very easy to use |
| Has an Affiliate program | Not great training or support for beginners |
| Allows for A/B testing | |
| Offers email marketing in ClickFunnels directly in the Enterprise Plan | |
If this sounds like you, check out ClickFunnels and sign up here!
---
SamCart
SamCart is a digital shopping cart builder that helps shop owners increase sales. According to a number of studies, somewhere between 65% and 85% of shoppers abandon their cart.
SamCart is here as a solution to this problem. It offers a wide range of templates ready for your online shopping cart. Through its efficient process, you can build your checkout page in less than half an hour.
Like Online Sales Pro and ClickFunnels, SamCart also integrates with a wide range of email marketing tools such as AWeber.
You do not need to be a tech-savvy online shop owner to use SamCart, so anyone from a beginner to someone more advanced can use it to set up and optimize their online shopping cart and sales funnel.
The Pros and Cons.
| | |
| --- | --- |
| Pros: | Cons: |
| Has customization capabilities | A little pricey |
| Allows for email automation and integration | Can be difficult to navigate the automation and integration section |
| Allows for A/B testing | Only for those who are selling products |
| Has advanced cart abandonment and management | Affiliate program is only available to the Scale plan members or higher |
| | |
If this sounds like you, check out Samcart and sign up here!
---
The Final Word
So what's the best funnel builder for you? If you're a beginner or don't have much experience with sales funnels yet, then Online Sales Pro is your best option.
It's affordable, easy to use, and offers tons of training to help you build your business.
If you're a seasoned entrepreneur who wants to build funnels for webinars, memberships, or masterclasses, then ClickFunnels might be the option for you.
If you have a product you're trying to sell and struggle with cart abandonment issues and need a solution to that problem, consider getting SamCart.
If you're still unsure, go for the least expensive option, which in this case is Online Sales Pro.
---